Tourist Places
Mussoorie : Mussoorie with its green hills and varied Flora and Fauna, is a fascinating hill resort. Commanding a wonderful view of extensive Himalaya snow ranges to the northeast, and glittering views of the Doon Valley, Roorki, Saharabpur and Haridwar to the south, the town presents a fairy land atmosphere to the tourists. Its history back to 1827 when Captain Young, an adventures military officer, explore the present site and laid the foundation of this holiday resort which now has few rivals. Mussoorie is famous for its scenic beauty and hectic social life. It provides all kind of amusement and every facility for domestic and foreign tourist.Mussoorie is conveniently connected by road to Delhi and by other major Cities and is also a "Gateway" to Yamunotri and Gangotri shrines.



Khirsu : The snow - laden mountains of Khirsu tempt the tourist in winters, while the panoramic view of Central Himalayas attracts tourists in summers, when one can get a clear view of 300 named and unnamed peaks. Located 19 kms. away from Pauri at an altitude of 1700 mts. Khirsu is a peaceful spot free from pollution. The tranquility of the adjoining thick Oak and Deodar forests and apple orchards, is only broken by chirping birds. The ancient temple of Ghandiyal Devta in the vicinity is well worth a visit.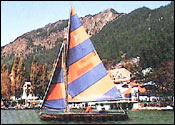 Nainital : The Nainital tourist district is the pride of the Kumaon region in Uttaranchal. While there are many other places equally beautiful, Nainital is certainly the most popular tourist destination in Kumaon. It's a pleasant hill station. For tourists looking for hustle and bustle the best time to go is the summer months when a lot of traffic ascends from Delhi and the plains.

Pauri : Situated at an elevation of 1814 mts. above sea - level on the northern slopes of Kandoliya hills, Pauri is headquarter of the district Pauri Garhwal and Garhwal Division. Pauri provides a panoramic view of the snow clad Himalayan peak of Bandar Poonch, Swarga Rohini, Jonli, Gangotri Group, Jogin Group Thalaiya - Sagar, Kedarnath, Kharcha Kund, Sumeru, Satopanth, Chaukhamba, Neelkanth, Ghauriparvat, Hathiparvat, Nanda Devi and Trisul.

Srinagar : Srinagar abounds in ancient temples and Kamleshwar is the most prominent among them. It is said that Lord Rama had worshipped Lord Shiva here with a thousand lotus flowers. One flower fell short and Rama compensated this loss by offering one of his eyes. That is the reason why he is also known as 'Kamal Nayan', meaning lotus eyed. Every year on the occasion of 'Vaikunth Chaturdashi', women come here to worship Lord Shiva whole night with lighted lamps.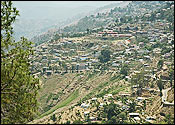 Almora : The ancient town of Almora, before it's establishment was under the possession of Katyuri king Baichaldeo. He donated major part of this land to a Gujrati Brahmin Sri Chand Tiwari. Later on when Chand kingdom was founded in Baramandal, the town of Almora was founded at this centrally located place in 1560 by Kalyan Chand.

Joshimath : Adi Guru Sankaracharya, who came all the way from Kerala in the 8th century A.D., performed penance under a tree and after attaining enlightenment, established a Math, (religious center), known as 'Jyotirmath. The name Joshimath is derived from it. Temples of Narsingh Dev and Nav Durga is located here. Of special scenic interest are orchards of apple, apricots, lemons and maltas spread all over. Badrinath is just 44 km. from here. Joshimath is also Gatway of Badrinath.

Kausani : At the hill resort of Kausani the mountains rise so dramatically as if to reach the heavens. In fact not just Kausani the entire Kumaon Hills have been known for their idyllic beauty with the huge mountains silhouetted against the sky. Kausani was originally called Valna. Kausani offers the magic of the deep pine forests and the majestic mountains.


Tourist Places : Query Form