Valley of Flowers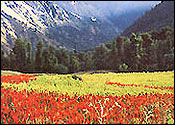 This U-shaped alpine valley, formed by retreating glaciers, remains snow-covered from November to May. When the ice thaws in June, the valley is rich with herbs, medicinal and flowering plants, which burst into a profusion of colour in July and August. The month between mid-July and mid-August is the ideal time to visit. The Valley got publicised as the Valley of Flowers when Frank S, Smith - mountaineer, explorer, botanist camped here for several weeks in the monsoon of 1937 and wrote a book, The Valley of Flowers.

Because of the solitude, the Valley was used by sadhus during prolonged periods of meditation. The Valley has been associated with Lakshman, who is believed to have meditated on the banks of Hemkund. The 'Sanjeevani Buti', which revived him when he was wounded in battle with Meghnad, son of Ravana, is said to have been from here.

The Valley of Flowers National Park is above Ghangria in the upper reaches of the Bhyundar Ganga in the Zaskar Range of the Garhwal Himalaya, Chamoli District. Bounded by high mountain ridges and peaks on all sides, 8,950 ha of land were declared a national park with effect from September 1982.It is a 5 km trek from Ghangria, which is 13

kms from the roadhead at Govindghat, between Joshimath and Badrinath.
At an altitude ranging from 3,350 m to the peak of Gauri Parbat at 6,719 m, the Valley of Flowers is essentially the catchment area of the Pushpawati River, which is known as the Bhyundar Ganga, downstream of Ghangria. It consists of a glacial corridor, 7 km long and 2 km wide, with it's source in the Tipra Glacier which descends from Gauri Parbat. A wall of steep cliffs rises 2,000 m from the valley floor on the north side, while the terrain slopes less precipitously to the south. Being protected from the cold, dry winds from Tibet to the north and partly shielded from the full effects of the monsoon to the south, it has a distinctive climate. In the monsoon, mornings are often clear, but as the day progresses, clouds gather. The valley is snowbound from November to May.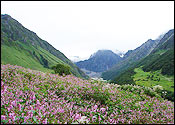 The northern slopes are thickly forested with birch, rowan and rhododendron up to an elevation of 3,800 m with lichens carpeting the ground. The southern slopes at the base of the rock wall consist largely of meadows or bugyals, with a variety of alpine flowers, including anemones, asters, fritillarias, gentians, geraniums, larkspurs, lilies, orchids, poppies including the Himalayan blue poppy, potentillas and primulas, marsh marigolds. Medicinal herbs, such as rhubarb and aconite, are also found in the valley and Brahma Kamal, the celestial flower which is offered to the gods, grows on the higher reaches.

General Information
Location On the upper expansions of Bhyundar Ganga in Chamoli District of Uttararanchal.
Area 87.5 Sq. Kms
Temprature (July & August) Max. - 17 (Celsius) & Min. - 7 (Celsius)
Best Season From mid July to mid of August

Accommodation & Facilities:
Uttranchal Govt. Tourist Rest House, Gangharia as well as Forest Rest Houses at Govindghat and Gangharia are the accommodation options available for tourists visiting the valley. There's also a Gurudwara at Ghangharia with lodging facilities. Dining facilities are also available at Ghangaria.


Valley of Flowers : Query Form